Here is the list of The top 7 Best jewellers in Chandigarh.
Jewellery is something we all buy for a variety of reasons, including weddings, gifts, cultural or traditional reasons, and so on. In fact, in our country, ladies are more likely to wear this gleaming accessory than males.
Women in India enjoy wearing and purchasing jewellery because it is a part of their culture and customs. When purchasing pricey jewellery, it is vital to consider factors such as purity, design, and weight.
Jewellery is like the ideal seasoning; it always enhances what is already present.
Have you ever envisioned a woman who isn't wearing any jewellery? It's possible that you'll say no. Women and jewellery are complementary, making her appear more elegant and lovely. She isn't complete without jewellery, but you should be very picky while selecting yours.
If you're looking for gold, silver, or diamond shops, you've come to the right place. Find the famous jewellers in your city by scrolling down the list.
Top 7 Best Jewellers in Chandigarh
Tanishq Jewellers
Tanishq is a well-known brand that was founded by the Tata Group. The words 'Tan' and 'Nishk' refer to a gold decoration that evolved throughout time in response to the demands of Indian women. Tanishq has been selling diamond, gold, and platinum ornaments encrusted with precious stones patterns since 1994, making them appropriate for any festivals or special occasions. The jewellery is of excellent quality, and it is a well-known brand that can be trusted for its purity.
They indeed sell a wide range of rings, bracelets, necklaces, and earrings. They have a fantastic, up-to-date collection and are experts at recognizing consumer demands. Tanishq Jewellery has everything from earrings to engagement rings, so you're sure to find something special. All of their pieces are unique and go through a rigorous quality control process. They strive to deliver a speedy turnaround time for their consumers while also bringing their idea to reality without sacrificing consistency. Tanishq Jewellery also provides free shipping throughout India.
Tanishq Jewellers Speciality
Shubham, Padmavat Jewellery, Uttara, Earrings, Divyam, Iva, Chains, Bangles, Mirayah, Pendant, Amara, and Glitterati Jewellery, Rings, Swarnam, Mehek, Bracelets, Queen of Hearts, Aveer, Necklaces, Niloufer, Nosepins & Set Pendants.
Talwar Jewellers
Talwar Jewellers has been offering high-quality gold and diamond jewellery to its consumers since 1954. They are Chandigarh's oldest and most reputable jewellers. Some consumers put their trust in these jewellers rather than the brands because they have been in the industry for more than a century. Talwar Jewellers offers a large selection of 22-carat diamond, gold, and kundan jewellery.
'Talwar Jewellers' is a well-known jewels store in Chandigarh with an area of 8000 square feet. This jewellery store was founded by the late Shri Tarsem Lal Talwar. Rakesh Talwar and Sunil Talwar, his two sons, have taken over the banner of Talwar Jewellers. With their remarkable quality and distinctive style, a balance of classicism as well as modernism, Talwar Jewellers has become a symbol of jewellery excellence. To bring out their exquisite diamonds, they fiercely exhibit their ardent innovation and distinct vision. 'Talwar Jewellers' specialises in fine jewellery and offers Agni diamond earrings and Freya diamond cuff due to its exceptional quality and unique style.
Talwar Jewellers Collection
Earrings, Rings, Chains, Uncut Diamonds, Bangles, Bracelets, 22Kt Gold Jewellery, Nosepins, Pendants, Necklace Set, Semi-Precious Stones, Wedding, Polki, Pearls, Bridal, Emerald, Temple, Kundan, Gold Fusion & Diamonds Jewellery.
Navkkar Jewellers
Navkkar Jewellers is a Chandigarh-based company that has been providing consumers with creative and contemporary jewellery designs for the past 16 years. The Jewellers, situated in Chandigarh, features an excellent assortment of Gold, Diamond, and Kundan jewellery with a wide selection of styles.
It is a family-owned and operated business that specializes in modern and traditional North Indian jewellery. Since 1996, Navkkar Jeweller has been providing the highest level of quality and customer service to all. They thank all of their employees for making them the number one choice and most trusted brand in the retail jewellery industry. Clients can purchase high-end diamond and gold jewellery from the jewellery store. 'Navkkar Jewellers' is a company that specializes in silver, Kundan, and Jadau jewellery. The Navkkar can also remodel jewellery. They are indeed considerate of your requirements and offer to deliver the styles you have chosen. They use the best and most durable hand engraving tools, processes, and technicians available.
Prong re-tipping, prong replacement, head replacement; diamond or color stone tightening, earring repair, chain soldering, clasp replacement, and Dori replacement are just a few of the services offered by Navkkar Jewellers.
Navkkar Jewellers Collection
Gold, Diamond, Silver, Jadau, Kundan, Blennci, Bridal, Platinum, Traditional, Precious Stones, Kids, and Gold Jewellery, Gold Baby Earrings GBER-CL186, Chain, Ring, Earring, Gold Bangle, Uncut Diamonds, Jewellery Repair, Cleaning, Re-Modelling, Premium Italian Collection CH-CV129, Hand Engraving & Rhodium Plating.
PC Jewellers, Chandigarh
PC Jeweller is the first brand that comes to mind when we think of buying fashionable jewellery for men or women in Chandigarh. They have it all, from gold to diamond jewellery, with stunning designs that will entice you to buy it for any occasion. They've always been a household name when it comes to silver, gold, and diamond jewellery. The Jewellery store has a fantastic variety and can provide you with verified jewellery. They specialise in beautiful jewellery because of their exceptional quality and distinctive designs. PC Jewellers is the first name that comes to mind when someone thinks of quality jewellery in Chandigarh. They also trade in silver, in addition to gold and diamonds. To take advantage of the offer, go to their store.
PCJ Collection
Tattvam, Lal Quila, Trinity, Matching Sets, Mrinali, Mesmerizing, Colour candy, Mother of Pearl, Baby, Pyramid, Celestia, Mismatch, Trio Elemento, Fleur, Twirlyz, Workwear, Couple Band, Two Diamond Pear Marquise, Om Hridaya, Unique Charms, Little Treasure, every day, Wear Your Raashi, Wedding, Le Reve, Navratna, Shakuntalam, Wedding Rings, earrings, bracelets, nose pins, necklaces, chains, mangalsutra, pendants, gifts, men's jewellery, and gold coins are among the jewellery pieces offered by the jewellery business to its valued customers. The decorations are constructed of gold, diamonds, platinum, silver, as well as gemstones, among other materials.
Kalyan Jewellers
For you, Kalyan jewellers may be a better option. Grab the best gold jewellery to make yourself stand out. One of Chandigarh's most reputable jewellers, known for its high-end and meticulously designed top jewellery pieces. Kalyan Jewellers has been a major jewellery brand since 1993, offering a wide assortment of gold and diamond jewellery.
The company began with textile sales and wholesaling, which it has been doing for over a century. They arrived in Thrissur with their first jewellery store. They now have many stores across the country, including one in Mohali. The gold is of good quality, reliable, and worth purchasing. A hallmark is included with the jewellery.
Kalyan Jewellers Speciality
Ziah, Rang, Mudhra, Tejasvi, Glo, Anokhi, Vedha, Hera, Apoorva, Candere, Nimah, and Laya are among the Kalyan's jewellery house's different brands of jewellery collections, which are primarily designed for a niche clientele.
The Kalyan Jewellers earrings are handcrafted in the natural world. The decorations are designed to showcase the various traditional characteristics practiced in India's many states. Rings from Kalyan Jewellers are meticulously designed as well as handcrafted by expert artisans.
Sham Jewellers
Sham Jewellers, which is part of Sham Fashion Mall, is a well-known brand in the city. The top Jewellers in chandigarh, in addition to offering the finest style of Gold & Diamond jewellery, also emphasises the Hallmark logo to provide pure jewellery to their customers.
This has been a well-known name in Indian ethnic wear and exquisite jewellery for over 30 years. The brand offers a large selection of hallmarked gold and diamond jewellery that is suitable for every occasion. It's a good spot to go if you want to do some general shopping. The shop is only for females. They are indeed one of Chandigarh's most reputable stores, have everything from classic to modern styles.
Sham Jewellers specials
Royal Union, Meenakari Masterpiece, Coveted Kundan, Decadent Dewdrops, Classic Crescent, Majestic Musings, Flames of phoenix, Dazzling diamonds, Emeralds, Bracelets, Earrings, Necklace, Rani haar, and much more.
Caratlane Jewellers, Chandigarh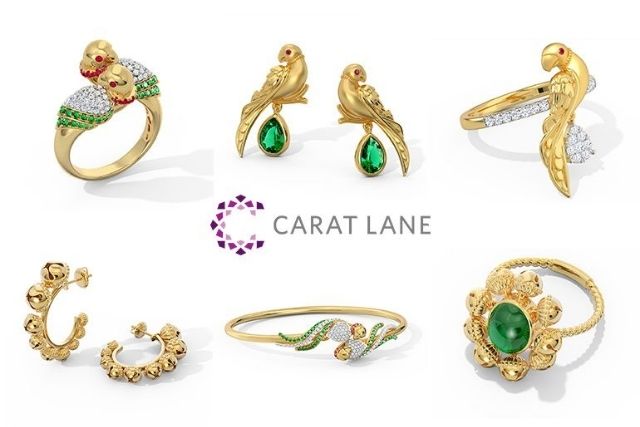 Caratlane (Elante Mall) in Chandigarh's Industrial Area, which opened in 2008, is a leading player in the category Jewellery Showrooms. This well-known institution serves consumers both locally and from other regions of Chandigarh as a one-stop-shop. This company has built a strong presence in its field during the course of its existence. The concept that client pleasure is just as vital as their products and services have helped this company build a large customer base that is growing by the day.
This company hires people who are passionate about their jobs and put forth a lot of effort to achieve the company's overall vision and objectives. This company plans to expand its product and service offerings shortly to serve a larger clientele. This establishment is prominently located in Chandigarh's Industrial Area. Commuting to this company is a breeze because of the several forms of transportation available. It is located at Phase-1, making it simple for first-time guests to locate this institution.
Its adventure began in 2008, and it now has 4000 worldwide merchants spread around the country. The brand has a large selection of brilliant solitaires, valuable gemstones, and diamond jewellery.
They have a store in Chandigarh's Elante Mall Phase 1 as well. The store features a large selection of diamond jewellery in a variety of styles. The solitaire is of good quality, and the brand has a high level of trustworthiness.
CaratLane Jewellers offer
Gold Jewellery, Jewellery Diamond, Solitaires, Bracelets, Bangles, Rings, Pearl necklaces, Jewellery sets, and also Nazaria bracelets are some of their specialties.
Jewellery indeed lasts a lifetime, so make sure to purchase genuine, pure Gold, Diamond, or Silver jewellery. Although most jewellers in Chandigarh offer jewels with the Hallmark trademark, which guarantees their purity. Visit these top jewellery stores in Chandigarh to find some interesting types of jewellery.
Hence, your search comes to an end here, and your purchasing begins. Visit certainly the best jewellery stores in Chandigarh to purchase stunning pieces of jewellery. Don't forget to look for genuine items. Moreover, to ensure the integrity of excellent jewellery, try to purchase it with a hallmark.
Read Next: The Top 10 Best Bakery in Chandigarh City
Follow us on Instagram, Facebook and Twitter for more Tricity updates.